This moist pound cake recipe is easy and so delicious. With its simple ingredient list, the recipe is a mouth-watering classic dessert that can be dressed up. Add fresh fruit, fruit topping, whipped cream or enjoy as is!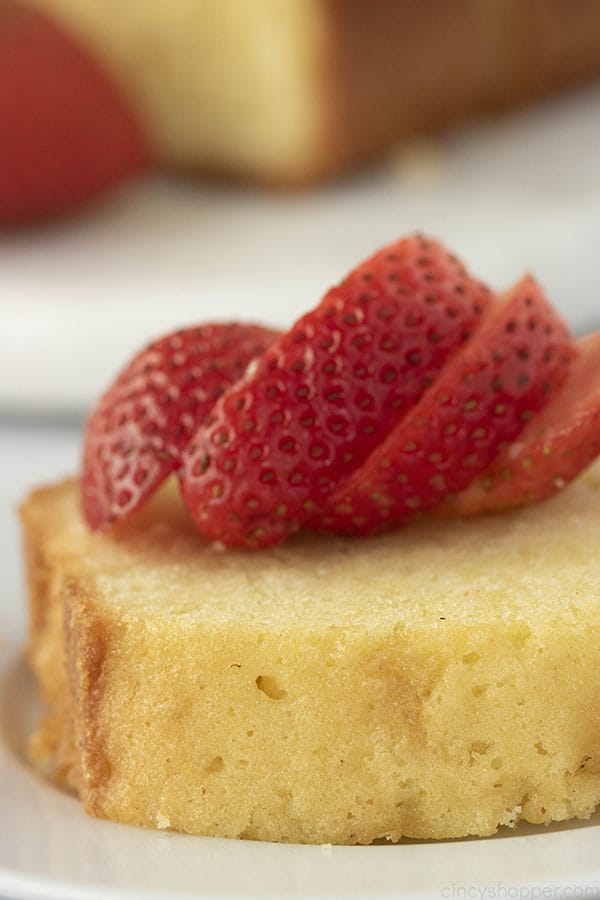 Understanding how to make a moist pound cake will give you a reliable dessert for any occasion. You can leave it as it is with a subtle vanilla flavor or embellish it with lots of sweet toppings. The options are endless.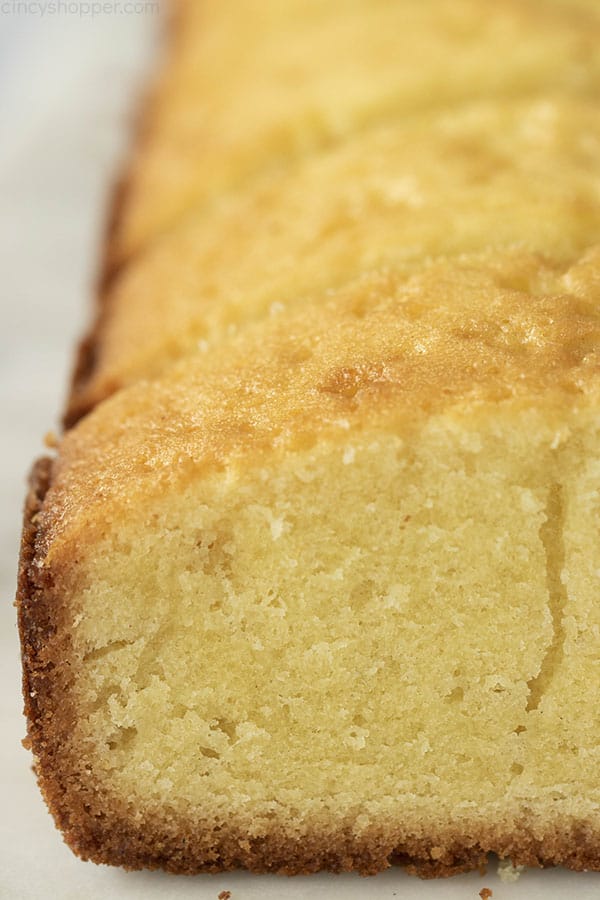 How do I make a cake moist?
This easy pound cake recipe has everything you need to make your cake moist. We start with two cups of butter (which is four sticks). Not only does the butter impart tons of moisture into the pound cake, it also gives it a great flavor.
Make sure to always use butter and not margarine. It does not perform the same!
The process of combining the butter with sugar is essential to producing a moist pound cake. Make sure you use the full two cups of sugar and give it plenty of time in the mixer to become creamy and smooth. The process whips air into the batter, ensuring that it will rise when baked. Don't be afraid to let it mix for several minutes.
Other ingredients in the moist pound cake recipe are:
Sugar
Vanilla and almond extract
Eggs- It's important to use eggs that are at room temperature. It will bring more volume to the cake.
Flour
This pound cake recipe has a light vanilla and almond flavor. If you want other ingredients distributed through the cake, add them to the batter. You can include lemon zest, cinnamon or nutmeg with your flour.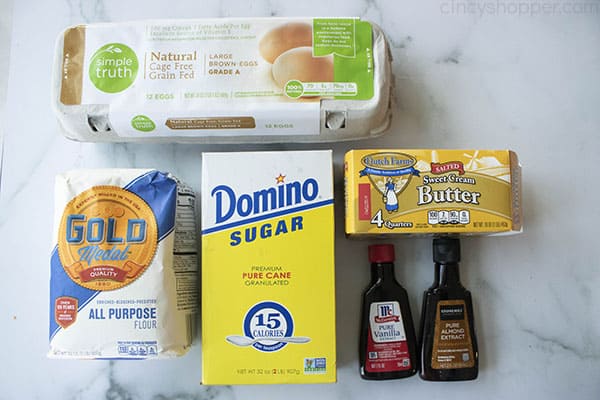 How do you make a moist pound cake recipe?
This is a very easy pound cake recipe. You probably already have everything you need in your kitchen. Without having to add cream cheese, yogurt, sour cream or any other ingredients, we can still create a delicious moist pound cake recipe.
Prepare your loaf pans by greasing and flouring them.
Use a mixer to beat the butter smooth.

3. Add sugar
4. Add the vanilla and almond extract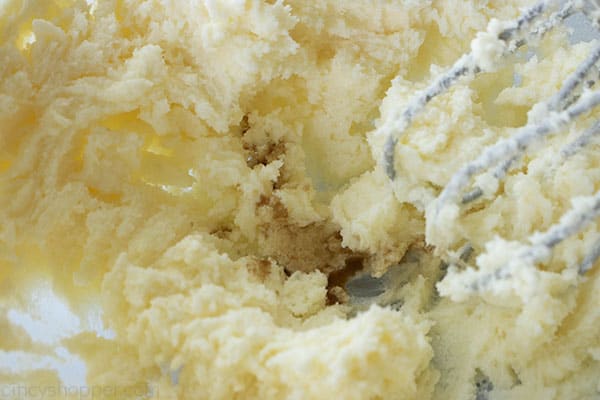 5. Add eggs one at a time. Wait just until the yolk disappears. Don't overmix the batter at this point. An overworked cake will crumble.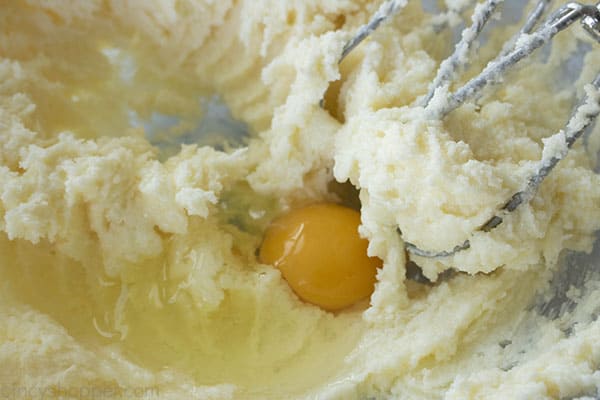 6. Add the flour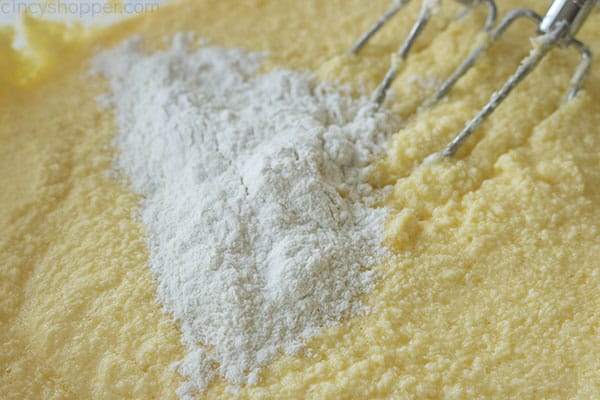 7. Pour into prepared pans.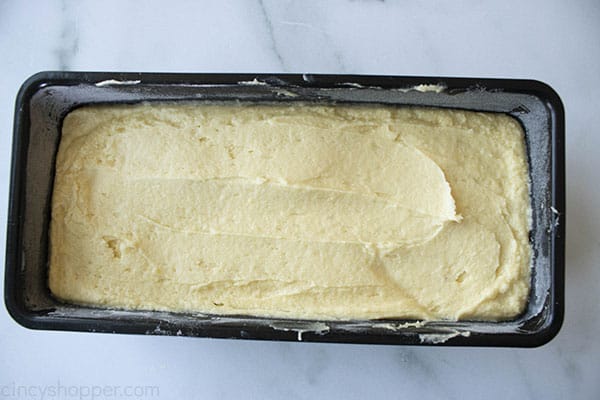 8. Bake for one hour or longer. Bake time will depend on your oven
9. Let cool for ten minutes in the pan before removing to a wire rack to finish cooling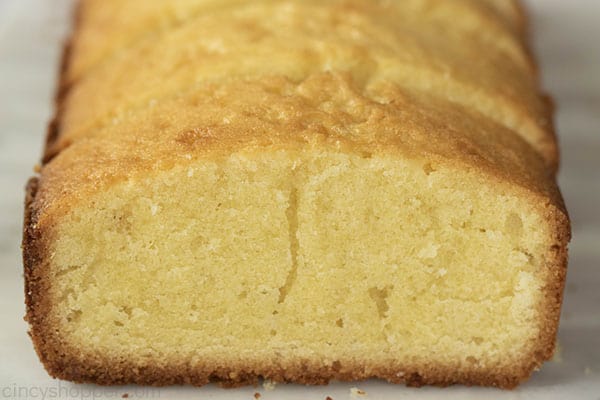 How do you measure a cup of flour?
While it is easy to scoop a measuring cup through a bag of flour, there is a better way to measure ingredients when baking. If you want a moist pound cake, it's worth it to take a few moments to correctly measure all of your ingredients.
Inside the bag or container, fluff up the flour with a spoon.
Use the spoon to scoop flour into a measuring cup. Don't pack it tightly but do overflow the cup.
Use a knife or straight edge to level the flour across the top of the measuring cup.
If you are using a scale, one cup of flour will weigh 4.25 ounces.
You use this exact method for measuring white sugar as well.
If you have too much flour, your cake will be dry. If you add too much sugar, the cake will not rise like it should.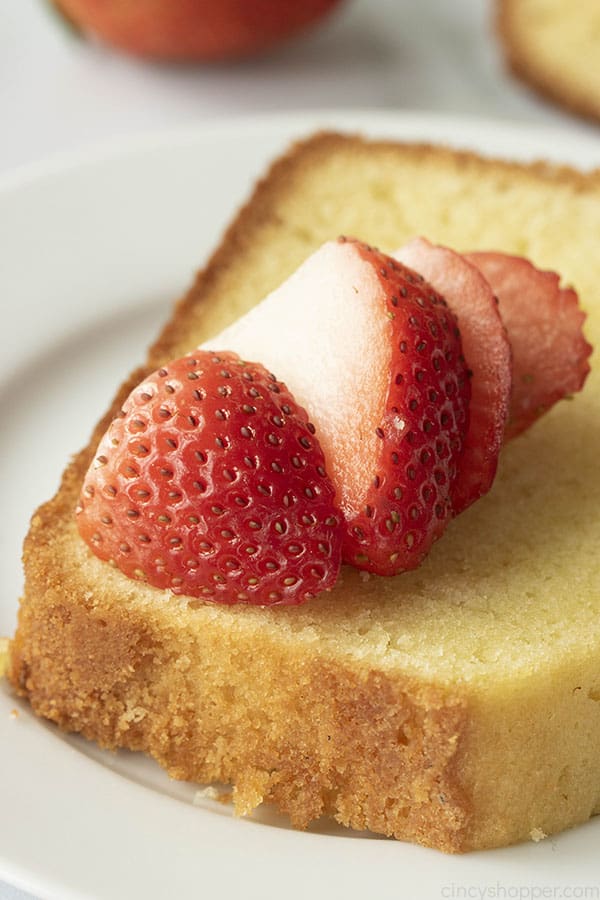 What kind of pan do you cook a moist pound cake recipe in?
Using the right kind of pan is important when baking. For this pound cake, you need a loaf shaped pan. This has straight high sides. Bundt pans are more shallow and have fluted sides. They don't hold as much batter as loaf pans. Pans with a long shape allow the cake to rise and cook uniformly. I used my longer loaf pan.
The trick to using these pans is to grease and flour them well before pouring the batter in. The flour keeps the pan from being too smooth for the cake to rise.
Only allow the cake to cool for ten minutes in the pan. That is enough time that it won't be so fragile that it will break apart when you remove it. But if you left it in the pan any longer, the outside of the cake will be damp and will stick to the pan.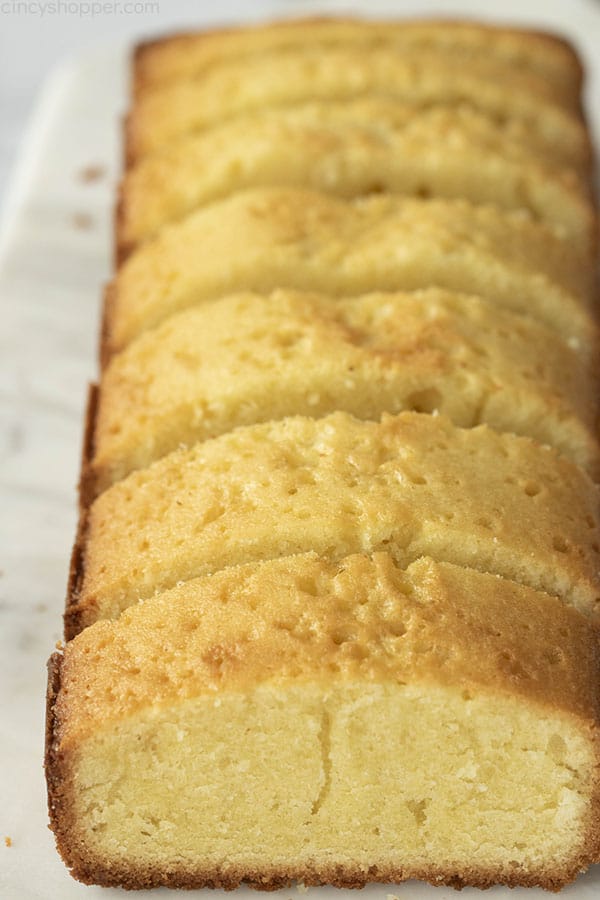 Why are there cracks on top?
Pound cakes are dense so are very likely to crack during cooking. The exterior of the cake bakes first and, as the interior bakes, it pushes against the crust.
For pound cakes, it's not the end of the world if it cracks. However, if you want to prevent that from happening, try cooking it in a tube pan instead of a loaf pan. Having a hollow tube in the center of the cake means that the batter is more evenly distributed and will cook evenly.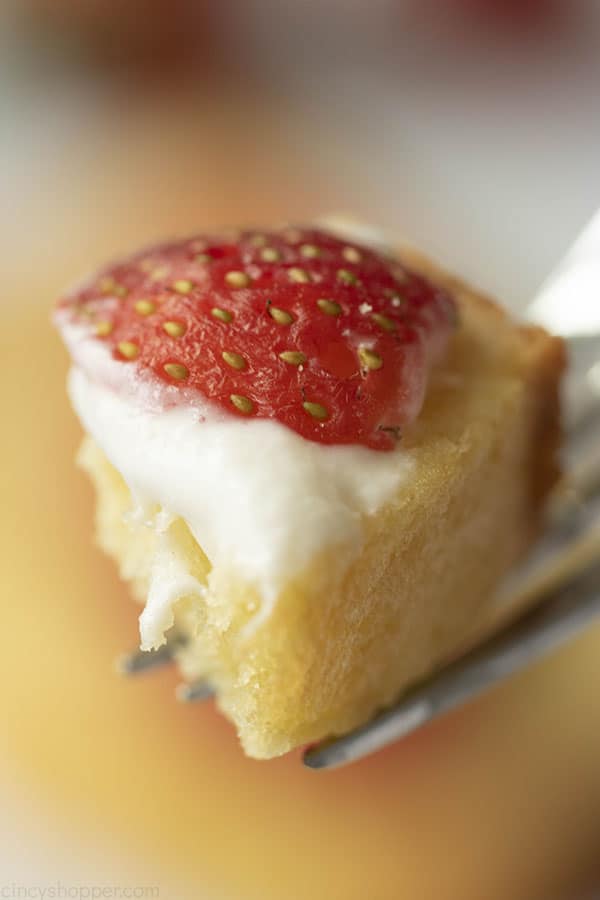 How do you know when it is done?
Homemade pound cakes take about an hour to bake. When you can smell the cake, you know it's close to being done.
Use a toothpick or a butter knife to test the cake. Slide it into the middle of the cake. If it comes out clean, the pound cake is completely cooked.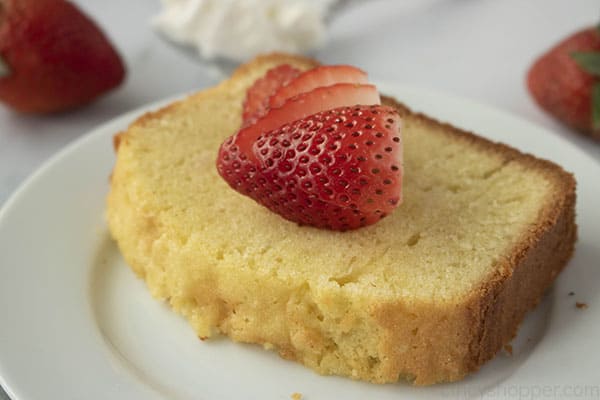 How do you serve a moist pound cake recipe?
This basic moist pound cake recipe is a canvas for lots of interesting toppings.
Try some of these:
Berries
Whipped cream
Mint leaves
Lemon curd
Simple syrup (this is another great way to increase the moisture in the cake)
Coconut
Honey
Ice cream
Chocolate or caramel sauce
Sweetened ricotta cheese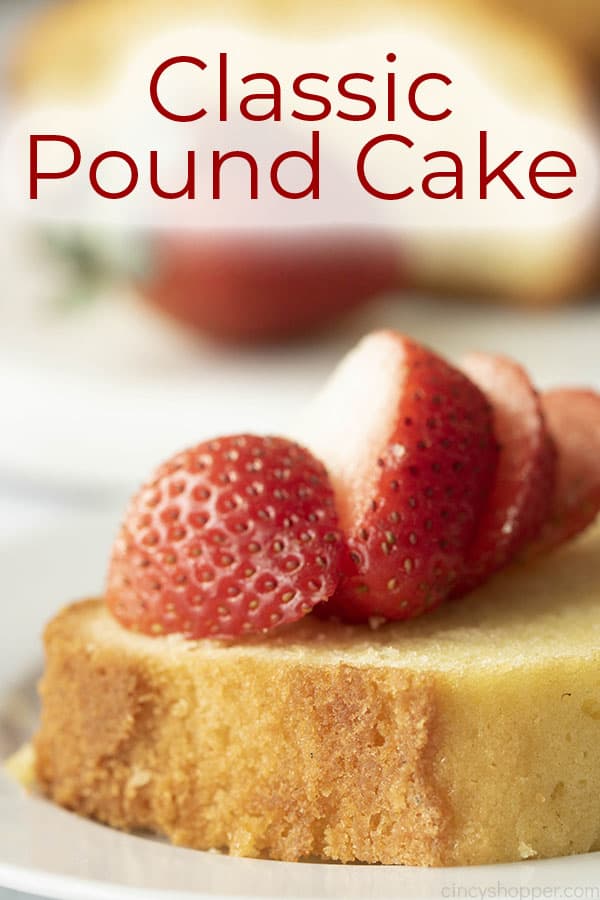 How do you store homemade pound cake?
Pound cake can be stored at room temperature for three days.
You can cover and refrigerate your cake for up to a week. If you poured syrup on it or put any other toppings directly on the cake, it needs to be refrigerated immediately.
You can even make this recipe ahead and freeze pound cake. A well wrapped cake will last for six months in the freezer.
Pound Cake
A moist pound cake recipe is a must-have for home cooks. With it's simple ingredient list, this recipe is a mouth-watering dessert that can be dressed up in a million ways.


Ingredients
2

cup

Butter

softened

2

cup

Sugar

1/8

tsp

Vanilla Extract

1/8

tsp

Almond Extract

9

Eggs

at room temperature

3 1/4

cup

Flour

sifted
Instructions
Grease two loaf pans and dust with flour. Preheat oven to 350.

In a large bowl, beat butter until fluffy.

Add sugar and continue beating until smooth and creamy.

Beat in vanilla and almond extracts.

Beat in eggs one at a time.

Gradually add in flour, beating until incorporated.

Pour into prepared pans.

Bake for 1 hour or until toothpick inserted in center comes out clean.

Allow to cool about 10 minutes.

Use a butter knife to loosen from sides of pan.

Transfer to wire rack to finish cooling.
Nutrition
Calories:
685
kcal
|
Carbohydrates:
71
g
|
Protein:
10
g
|
Fat:
41
g
|
Saturated Fat:
25
g
|
Cholesterol:
245
mg
|
Sodium:
382
mg
|
Potassium:
109
mg
|
Fiber:
1
g
|
Sugar:
40
g
|
Vitamin A:
1348
IU
|
Calcium:
39
mg
|
Iron:
3
mg