These Santa Hat Cupcakes are a really easy to dessert to whip up and they are unique. Take them to an office party and everyone will be chatting about these cute cupcakes. They look very festive and would look great as a treat to serve this Holiday Season at parties and family get togethers! I think anything santa related always makes everyone smile. Or should I say maybe not everyone, maybe it's just me ha ha! I whipped these up a few time sin the past to surprise the kiddos after school and also for a few functions.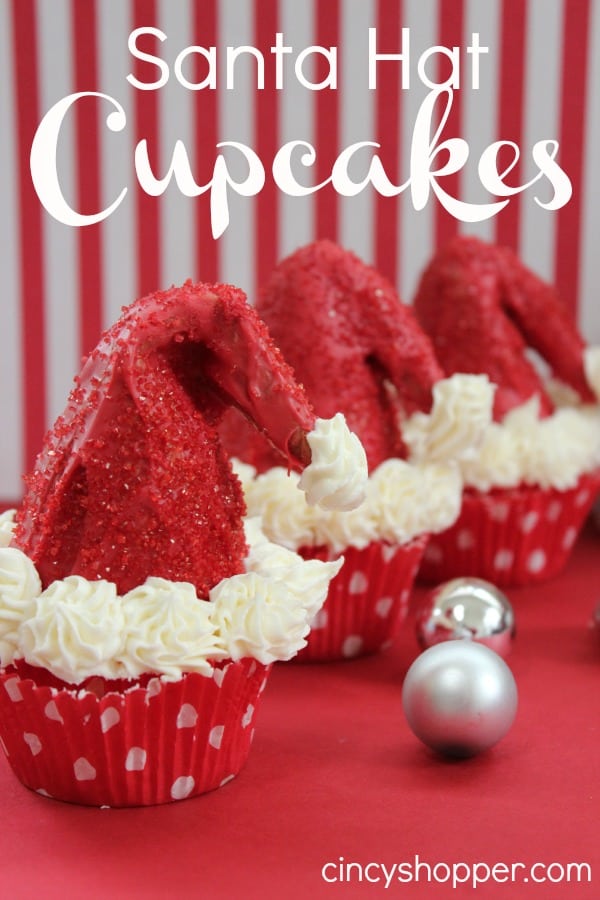 Santa Hat Cupcakes
These Santa Hat cupcakes are unique because they aren't just simply all frosting for the hat. These include a shaped  Sugar Ice Cream Cone. These are fun to make and are definitely just to cute. Shaping your cone like a Santa Hat is quite simple once you get the process down. I have also found that using the "Joy Brand" cones is the best option to get them to shape without burning. Your whole family and all of your guests will absolutely love them and you will be the dessert hero of the night! Most will think you purchased at a bakery as they turn out so professional looking.
INGREDIENTS
1 Cake Mix
3 Eggs (that's what my cake mix called for)
1 cup Water (that's what my cake mix called for)
1/3 cup Vegetable Oil (that's what my cake mix called for)
24 Sugar Cones-Joy Brand Work Best for bending
2 tbsp milk
1 cup of butter softened
1 tsp vanilla extract
4 cups confectioners sugar
1 cup Red Candy Melts (I used Wilton)
Red Sprinkle Sugar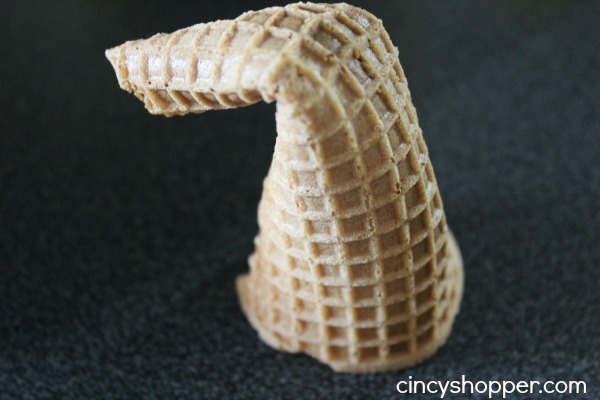 DIRECTIONS
Make cupcakes according to your cake package directions.
Let cool.
Wet a cone inside and out with water and heat for 20 seconds in microwave.
Bend cone to form Santa hat- Caution these will be HOT! This may be difficult the first time you try but once you "get it" you will "get it" ha ha!
Heat Red Candy Chips by microwaving for 30 seconds stirring and repeating until melted.
Coat each cone by rolling in melted chips, spooning the candy over hard to reach spots.
Place on rack and sprinkle with sprinkle sugar if you care to give a really unique effect to the hats.
Allow to dry before placing on your cupcakes.
In a large bowl, cream the butter and add vanilla (or use store bought frosting)
Mix in the confectioners sugar one cup at a time.
Beat in the milk
Ice the top of each cupcake.
Transfer icing to a large sized ziploc bag or Icing/Piping Bag
Place Santa Hat on top of each cupcake
Pipe icing in a ring around the top of each cupcake for Hat fur.
Pipe a ball at the end of the cone.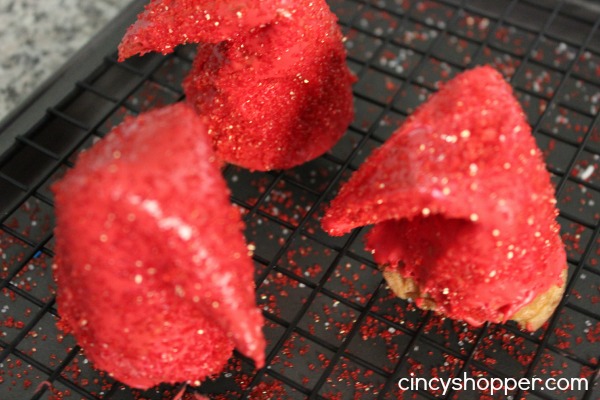 I know many of us grab quite a few cake mixes with our coupons when they are on sale. We also purchase icing. So these Santa Hat Cupcakes can be whipped up even quicker with store bought icing. If you are looking to use up some of those items from your pantry and would like to save time use those up on these cute cupcakes. If you are looking for other holiday fun foods, be sure to check out all my recent holiday creations.