Cherry Blossom Cookies are another tasty variety of Kiss cookies to make for the holidays. Pink and fruity with that classic chocolate drop!
These delicious Cherry Cookies are gonna be your favorite treat this holiday season! Sweet, chocolate, and cherry flavors with just a bit of almond nuttiness to round them out- perfect!
Cherry Blossom Cookies
Whether you call them blossom cookies or Kiss cookies, these little sweets are one of my absolute favorite desserts for the holidays! We've made all sorts of blossoms in the past, but we were in the mood for Cherry Cookies this time around, so we just had to make up a fresh batch. You better believe we enjoyed these Cherry Blossom Cookies!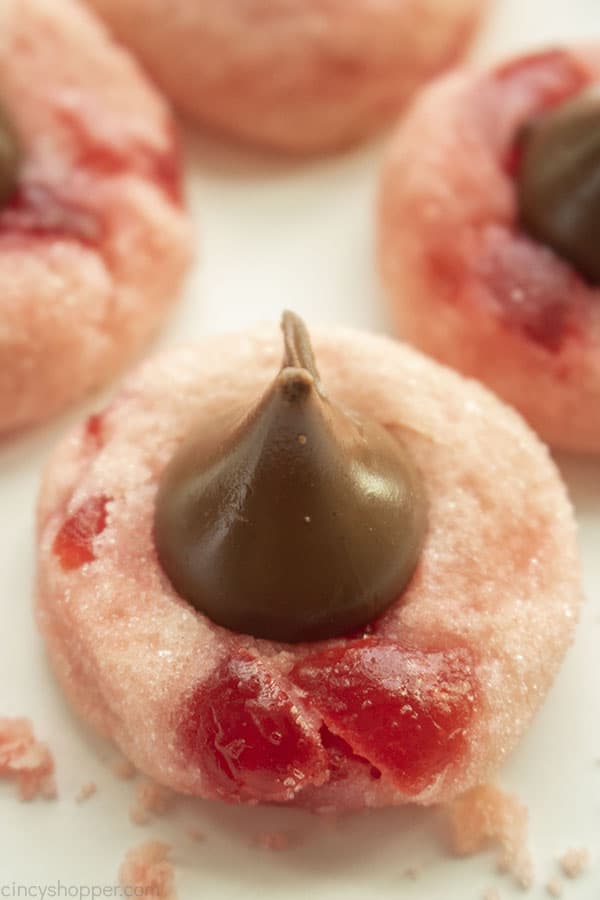 These cookies turned out amazing, to put it simply. In addition to folding in those sweet maraschino cherries, we reserved their juice to sweeten up the dough with even more cherry flavor! On top of making these cookies delicious, they also left this cute pink color- a few extra drops of food coloring will also help here too. To round things out a bit, we went ahead and added a bit of almond extract- we think it really helped take these cookies to the next level!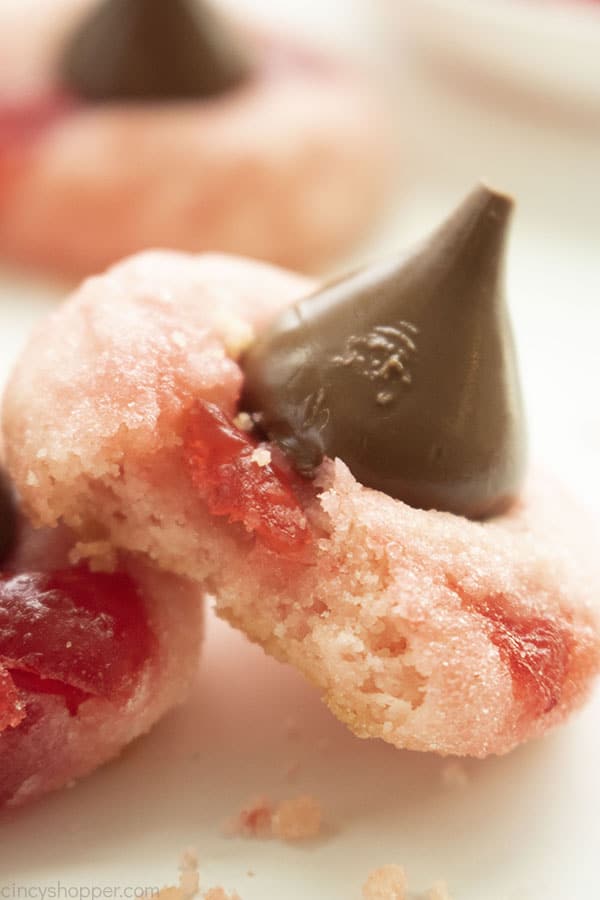 We know you'll enjoy making these delicious Chocolate Cherry Cookies this season! They're the perfect sweet treat to snack on while waiting for Santa Claus to pay his visit this December. These cookies will be great at parties, as a gift, or just for your family to enjoy. They're a great way to mix things up- I'd put them up against peanut butter blossoms any day of the week! Hope you enjoy!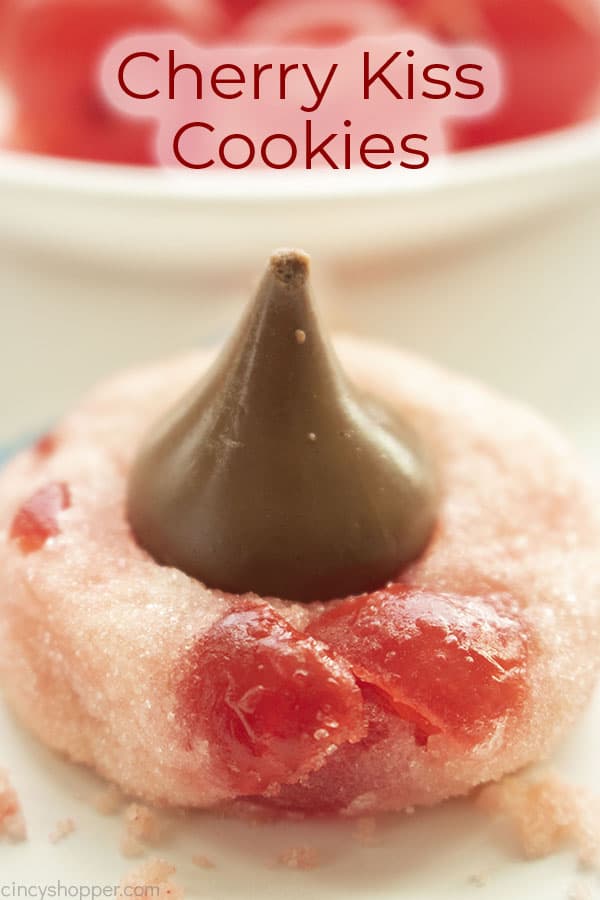 Other Holiday Cookie Recipes
These Cherry Kiss Cookies are very similar in style to our

Peanut Butter Blossom Cookies

.

This classic cookie recipe has been an enduring favorite, with that delicious combo of peanut butter and chocolate flavor

. A must-bake for the holiday season!

Another tasty cookie recipe in this style is our

Chocolate Kiss Cookies

recipe.

We loaded these little treats up with chocolate flavor with the classic Kiss in the middle and a chocolate cookie dough

. A great way to mix things if you've tried the peanut butter ones!

If you're wanting something a little more old-school, we also have our

Cherry Chocolate Chip Cookies

.

These are a fun, Christmas spin on the classic chocolate chip cookie with a chocolate cookie dough and chopped cherries folded in

. We know you'll love them!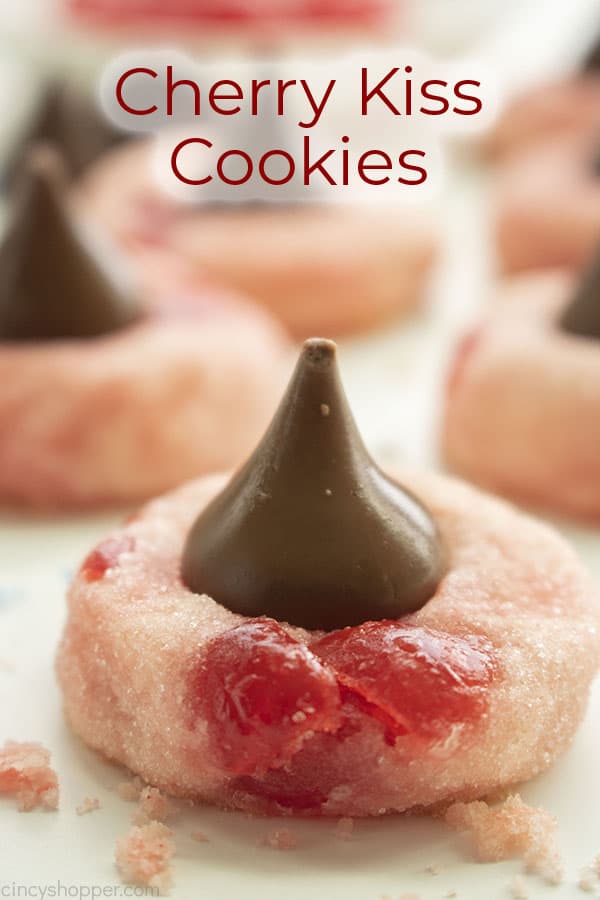 Ingredients for Chocolate Cherry Cookies
Maraschino Cherries, with juices reserved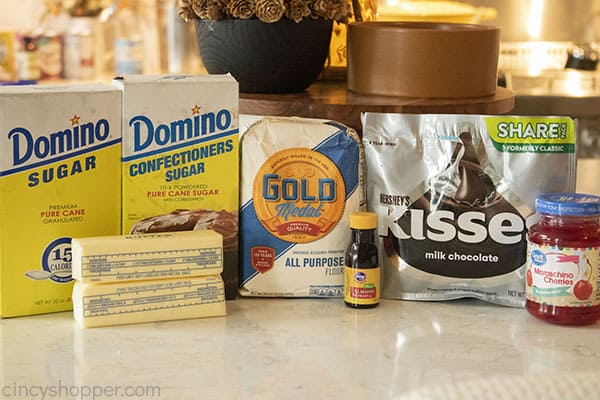 How to make our Cherry Cookie Recipe
Start our recipe by first getting our maraschino cherries drained, making sure to reserve the juice. Remove any stems before chopping into tiny pieces and patting dry.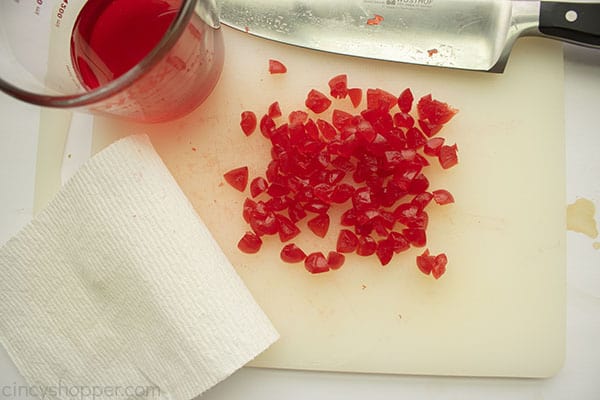 Next we're going start working on our cookie dough proper. For that, we'll first need to beat our butter- a hand mixer makes this easy!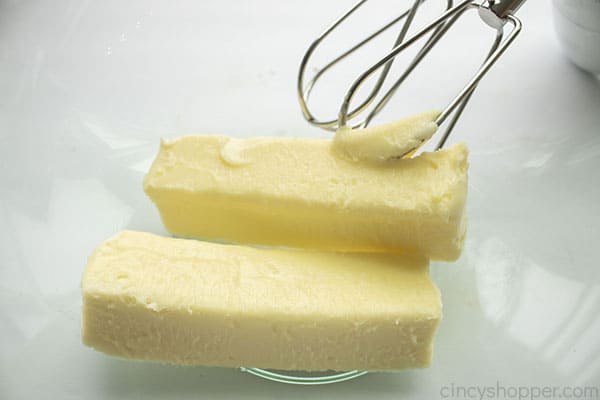 Once that's beaten to a thorough, creamy consistency, add and beat in your confectioner's sugar and salt. If using salted butter, you can likely scale back on the salt or omit it entirely.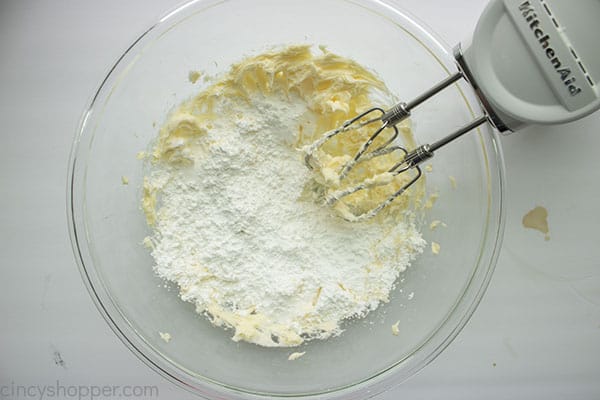 To this creamy mixture, we're going to add our liquid ingredients. Mix some of the reserved cherry juice, the almond extract, and a few optional drops of red food coloring if desired.
Now we need to add our flour. We're going to do this gradually, adding a small amount at a time and mixing thoroughly before adding the next small amount. Do this until you've made a consistent dough.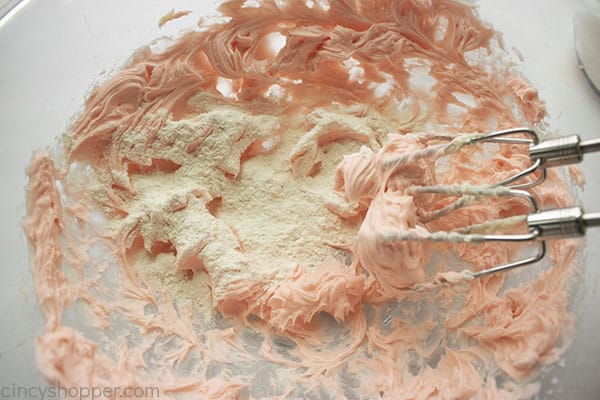 We're going to add our chopped cherries at this point. Drop your cherries into the bowl with your dough and fold them in. Make sure they're spread throughout the dough before letting chill in the fridge for 10 minutes.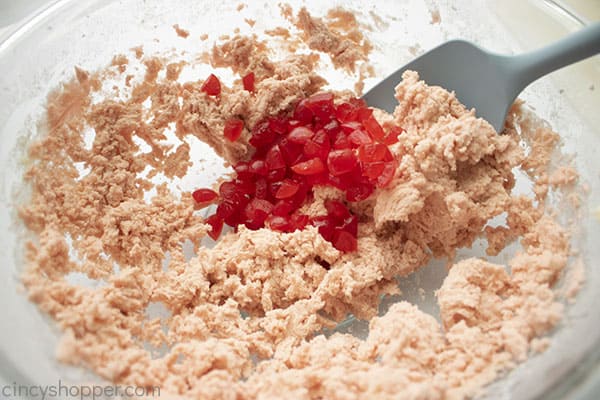 With our dough all prepped, we can finally start rolling out some balls for baking. You'll want dough balls that are about an inch wide- you can use a tablespoon or cookie scoop to help here. This recipe should make about 3 dozen or 36 cookies, so might need to bake a couple batches to make them all! Make sure to roll your balls of dough in granulated sugar before spacing them an inch apart on your baking sheet.
Before sending these pink treats into the oven, flatten them slightly- this will help their shape down the line. Once flattened, toss them into a 350 degree oven and let them bake for about 8-10 minutes.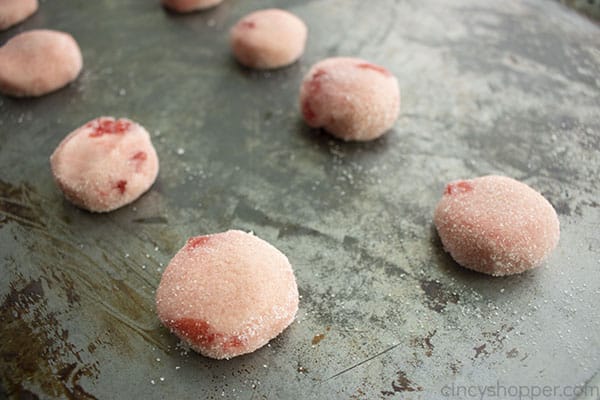 While they're still warm after pulled from the oven, press a Hershey Kiss into the middle of each cookie. Let cool for a few more minutes on the baking sheet before transferring to a cooling rack. Once fully cooled, grab one and enjoy!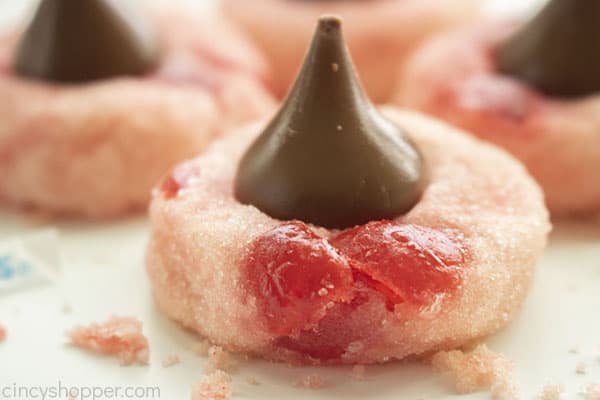 Cherry Blossom Cookie Variations
Feel free to experiment with some of the other Hershey Kiss Flavors.

Try making these cookies with the cherry cordial Kisses, the special dark ones, the lava cake flavor, or the almond kisses

! Let us know how it works out.

You could also use some chocolate covered cherries in place of the chocolate drops.

Thankfully

, we have our own

Chocolate Covered Cherries Recipe

if you wanted some homemade cherries for your cookies

!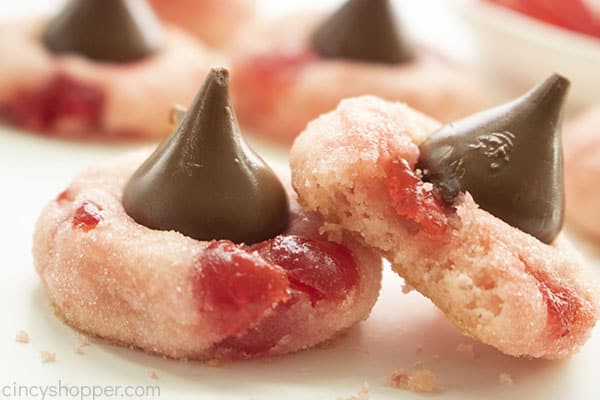 Cherry Kiss Cookies
Cherry Blossom Cookies are another tasty variety of Kiss cookies to make for the holidays. Pink and fruity with that classic chocolate drop!
Ingredients
2

stick

Butter softened

1

cup

Powdered Sugar

1/4

tsp

Salt

optional

2

tsp

Maraschino Cherry liquid

2

drop

Red Food Coloring

1/4

tsp

Almond Extract

2 1/4

cup

Flour

10

oz

Marischino Cherries

chopped

2

tbsp

Sugar

36

unwrapped Hershey kisses
Instructions
Preheat the oven to 350.

Place sugar in a shallow plate and set aside.

Remove cherries from liquid and chop. Reserve 2 teaspoons of liquid. Dry with paper towels.

Cream the butter with a mixer.

Gradually add powdered sugar and salt.

Add 2 teaspoons cherry liquid, red food coloring and almond extract and mix.

Gradually beat in flour until combined.

Fold in cherries.

Shape into 1" balls and roll in sugar plate to coat.

Place the balls on a baking sheet at least 2" apart.

Press gently down on center of cookie to slightly flatten.

Bake 8-10 minutes or until the bottoms are just beginning to brown.

Remove from oven and lightly press a kiss into the middle of each.

Transfer to a wire rack to cool.
Nutrition
Calories:
132
kcal
|
Carbohydrates:
17
g
|
Protein:
1
g
|
Fat:
7
g
|
Saturated Fat:
4
g
|
Cholesterol:
16
mg
|
Sodium:
69
mg
|
Potassium:
12
mg
|
Fiber:
1
g
|
Sugar:
10
g
|
Vitamin A:
170
IU
|
Calcium:
17
mg
|
Iron:
1
mg