Looking for some addition fun Easter Ideas for the kiddos? If so these Easter Bunny Mini Donuts could be a great treat to make this weekend. Enjoying the holiday by making fun treats with my kiddos has always been somewhat of a tradition for us. We always are in full on holiday mode until the holiday is over, ha ha.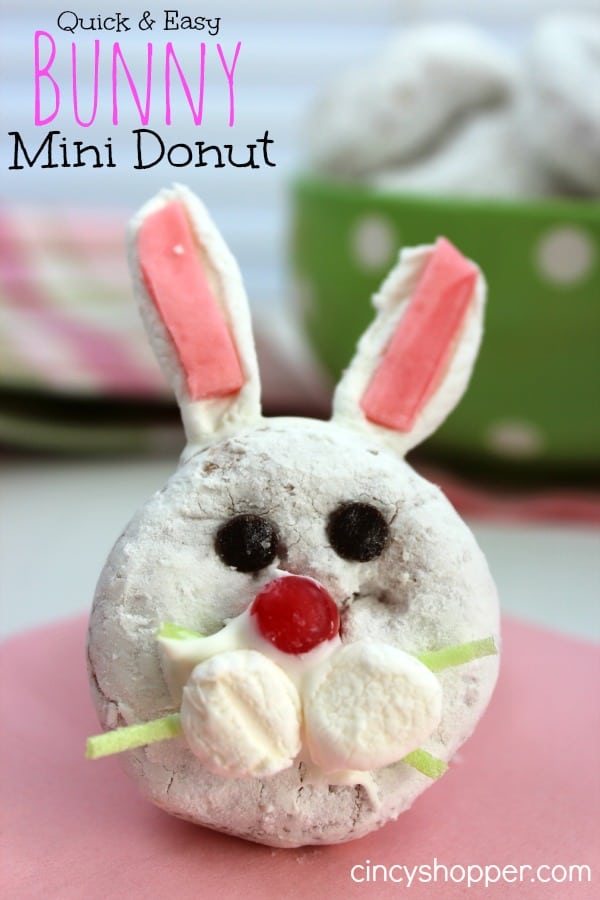 Easter Bunny Mini Donuts
The ingredients for you Easter Bunny Mini Donut Treats are simple. Just grab a bag of powdered store bought donuts and a few other items. You can even  get creative and look for edibles that you may already have in your pantry too. Many different candies and backing items will work to create your donut bunny.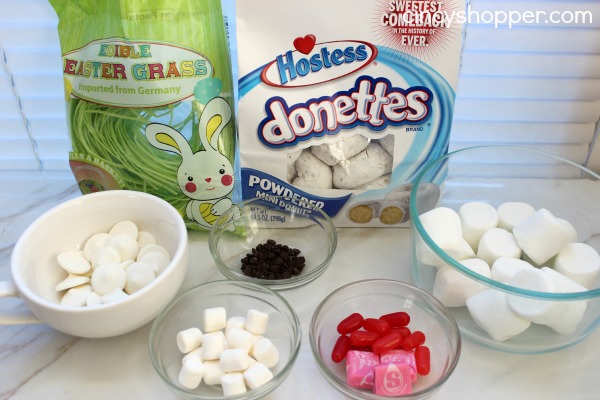 MY LATEST RECIPES

MY LATEST RECIPES
INGREDIENTS
6 Powdered Sugar Mini Donuts
3 Marshmallows
6 Mini Marshmallows
12 Mini Chocolate Chips
6 Red or Pink Mike & Ikes
2 Pink Starbursts
1/4 cup White Melting Chips
12 1 1/2″ pieces Edible Easter Grass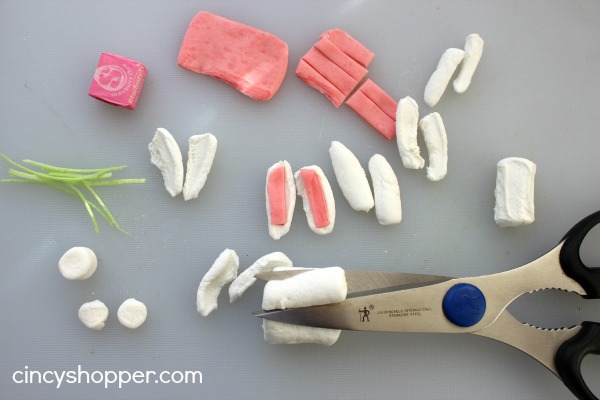 DIRECTIONS
Knead and flatten each Starburst out into a rectangle.
cut each into 4 equal width strips.
Cut each strip in half to make the pink inner ears.
Using scissors cut 2 sets of rabbit ears from each Marshmallow.
cut each mini marshmallow in half to make a set of cheeks.
Melt white chocolate in microwave by heating 30 seconds then stirring and repeating until smooth and melted.
Place red Mike & Ike in hole in middle.
Take a bit of white chocolate and "glue" 2 pieces of Easter grass under nose to make whiskers.
"Glue" cheeks under nose and on top of whiskers.
"Glue" mini chocolate chips (pointy side down) as eyes above nose.
Press pink inner ears against sticky part of cut marshmallow.
Dip end of ear in white chocolate and position on top of donut. You can stack 2 saltine crackers and use these as a support to hold the ears in place while the chocolate sets. If you have trouble getting chocolate to set you can also use a toothpick pushed into ears and into donut to hold in place, BUT warn everyone that they are there. I DO NOT recommend this!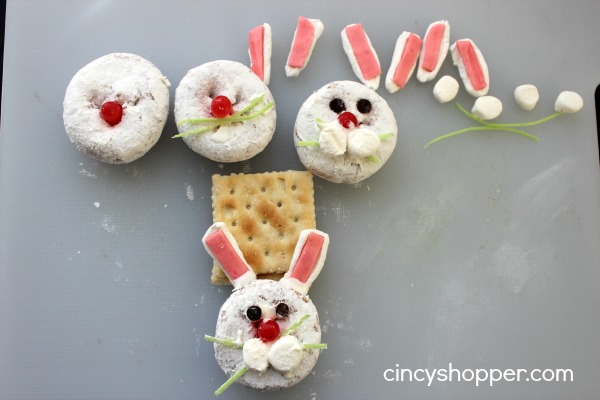 My kiddos (even the big ones) had fun making their own Easter Bunny Donuts. They were so cute though which made them difficult to eat, ha ha.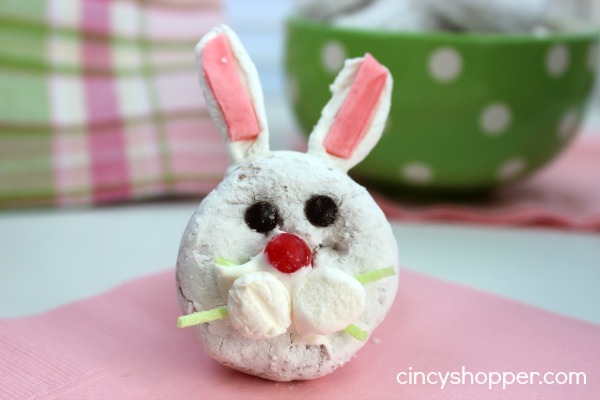 Are you following my Easter board on Pinterest? If not, start following. I have pinned some great Easter Ideas that may interest you when planning for your Easter Holiday. If you are looking for other great Easter Ideas be sure to check out the Cadbury Eggs, Easter Chick Sugar Cookies, PEEPS Sunflower Cake, Easter Bunny Bread, Easter Bunny Cake in a Jar, Carrot Cake Cupcakes with Cream Cheese Frosting, Easter/Spring Cake Cookies, PEEPS Cupcakes, Sheep Cupcakes, Homemade Butterfinger Eggs, PEEPS S'Mores, Easter Chick Deviled Eggs,  Nutter Butter Chicks, Reese's Peanut Butter Eggs Coconut Cream Eggs, Coconut Birds Nests Cupcakes, Easter Egg Cake Bites PEEPS Pudding Cups, Carrot In the Garden Cupcakes and the Chocolate Covered Peeps that I have shared this past few weeks.