If you are looking for a quick & easy treat to throw together for the kiddos think about making these adorable Donut Snowman pops.  These are great to put together for little parties or for kids get togethers (big or little kids, ha ha)! So simple even the kiddos can put them together too. I will admit the whole time I was making these I was munching on all of the donuts with my coffee! Yes, I think powdered donuts are very addicting.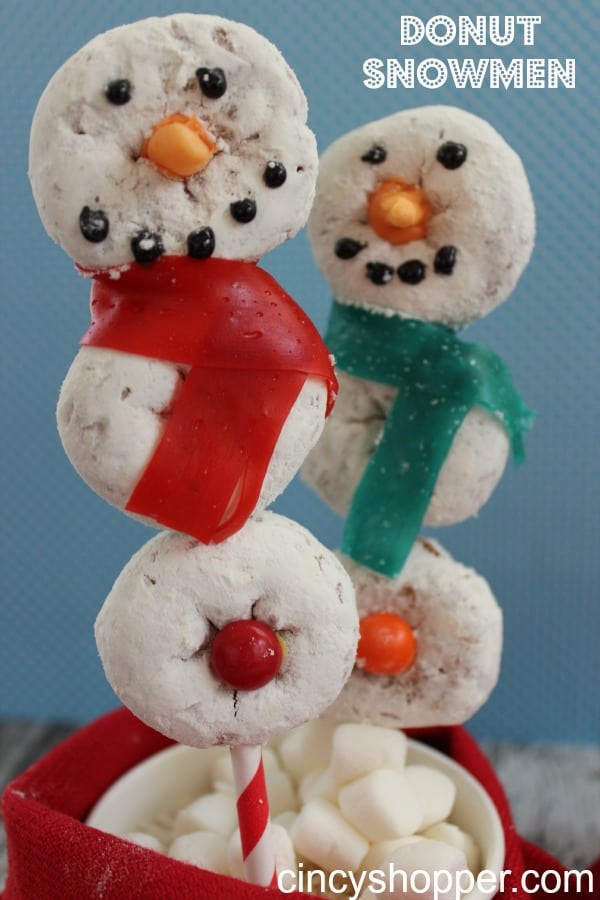 Donut Snowman Pops
Just grab yourself a bag of premade donuts, some fruit by the foot (Aldi carries plain red and plain blue that are great for creating scarves), lollipop sticks, some candies for eyes and buttons, and do not forget the orange Starbursts for the adorable nose and you have some cute snowmen.  This little Donut Snowman Idea has me all riled up for cold weather (which I usually really dislike).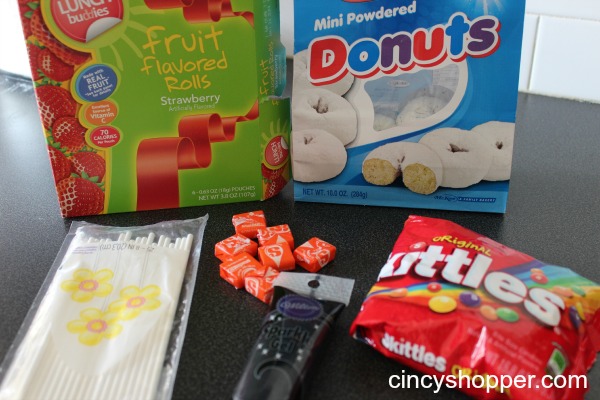 MY LATEST RECIPES
INGREDIENTS (yields 6 pops)
18 Mini Powdered Sugar Donuts
2 Fruit By the Foot
1/4 cup White Melting Chips
12 Skittles
2 Orange Starburst
6 Lollipop Sticks
Black Gel Icing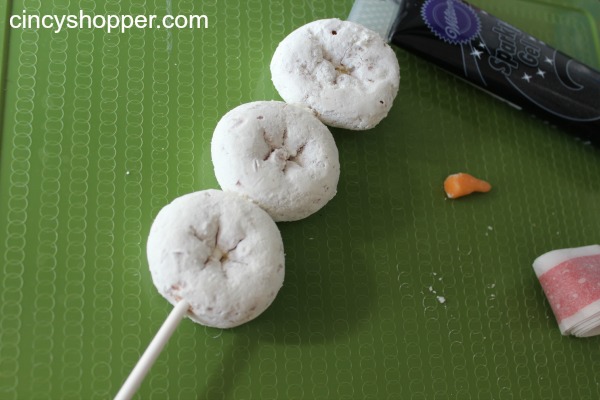 DIRECTIONS
Heat White Candy Chips in large bowl by microwaving for 30 seconds stirring and repeating until melted.
Dip lollipop stick in white chocolate. It will help to act as glue to keep donuts from slipping.
Push 3 donuts onto stick to form head and body.
Place a small glob of white chocolate below bottom donut to keep it from sliding.
Lay donuts flat to set.
Cut starbursts in half, and then cut each half on the diagonal and mold to form carrot shape.
Sut Fruit by the Foot in about 6″ lengths and wrap around snowman to make scarf.
Using gel icing pipe black dots to make "coal" eyes and mouth.
Use white chocolate to set Skittles as buttons in 2 body donuts.
Use white chocolate to set Starburst "carrot as nose in donut head.
Allow to set.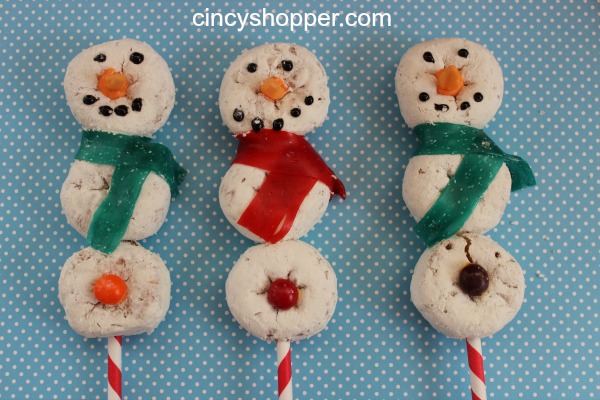 These are great to surprise the kids at breakfast with on a cold winter morning. They will love the donut and you can tempt them with the Fruit by the Foot and the candy for later, ha ha! If you are looking for other fun winter treat ideas be sure to check out the Gingerbread Man Marshmallow Pops I shared the other day.