This week my daughter and I whipped up a Pumpkin Cat Craft with mostly Dollar Store items. Since I have had the idea to save by crafting some new Frugal Fall Decor my daughter and I have been spending so much time together. It has been really nice. She loves art and I have never been much for being very crafty. I think I just never really tried to fit crafting into my schedule.  We have decided we will now be having mother/daughter crafting time every weekend. I was shock that she was the one who mentioned how fun it has been. We took time to brainstorm about some additional fall decor items we would like to make and have agreed it might be time to switch to some Christmas and winter decor in a few weeks.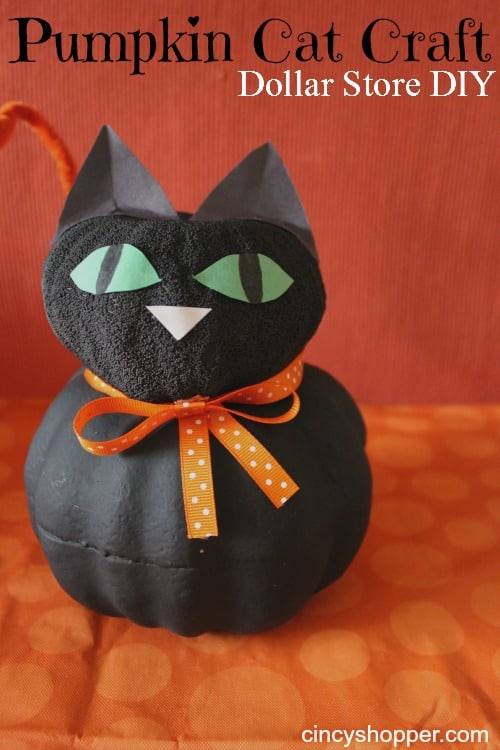 This past weekend while shopping the Dollar Tree for some crafting supplies (and groceries) my daughter mentioned making a Styrofoam cat with Dollar Tree pumpkins. I guess she had seen a similar idea online using real pumpkins (I guess you could do that but, I think using real pumpkins would be kind of wasteful as you wouldn't be able to use them next season). After she explained the craft I figured we would give it a shot. I knew I had purchased black spray paint at Dollar General for another project so this sounded perfect.
Supplies
1 Medium Sized Styrofoam Pumpkin (I purchased at the Dollar Tree for $1)
1 Small Sized Styrofoam Pumpkin (Also Purchased at the Dollar Tree for $1)
1 Piece of ribbon for collar
1 Can Black Spray Paint (Purchased at Dollar General for just $1.99 each)
1 black Sheet Construction paper for ears
1 Green or other color Sheet Construction Paper for the eyes
3 Pipe Cleaners for tail
Glue (I used a Glue Gun)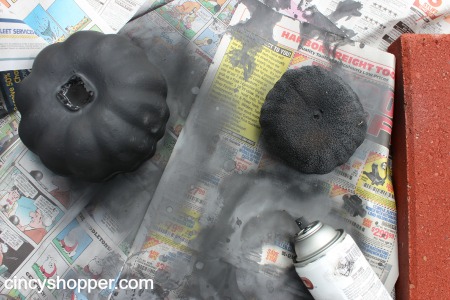 Directions
Cut stems off of pumpkins
Spray Paint your pumpkins and allow to dry for an hour or so
Glue your two pumpkins together to create your cat body (or use a skewer to hold them together)
Wrap ribbon around at seam for collar
Glue on ears and eyes (just be creative and make any shape you care to have)
Wrap pipe cleaners together to create a fluffier tale (you could use black- I had orange on hand)
Poke Tail into the back of your cat and curl
As you can see this project like my others are quite simple and are very inexpensive to make. If you can fit some crafting time into your schedule, give this Pumpkin Cat Craft a try. He/she looks cute on a shelf or counter in the kitchen. We named out cat already (I know we can be a bit weird, ha ha) her name is Sophie!
Looking for other Frugal Fall Craft and decor ideas? If so you can see many that my daughter and I have whipped up. See our Dollar Tree Crafts here. And also see our other Frugal Fall Crafts here.