Time for some DIY Ghost Glass Clings. Don't you just love  getting your home all festive for the fall season? Part of your festive fun may be adorning your home with Halloween décor. However you may have noticed that the price of getting your home spooky can be quite…frightening! Instead, why not try to make some of your own spooky Halloween décor. Below, you will find all you need to know about creating your own  Ghost Glass Clings. These clings are perfect for dressing up a mirror or window, plus, chances are you already have all of the supplies you need right in your very own kitchen. Take a look!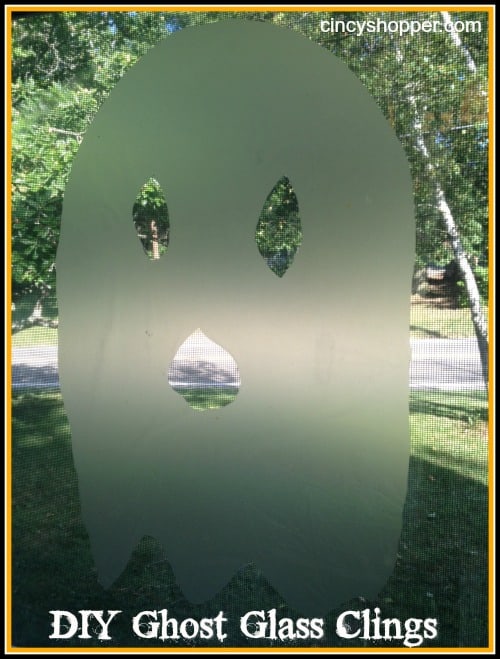 DIY Ghost Glass Clings

These DIY clings make it looks like a ghost just went "kerSPLAT" right into your window or mirror.
Supplies Needed:
Glad Press N Seal Wrap
Scissors
That's it! When is the last time you were able to make a cool craft using just two supplies? You can find this type of plastic wrap right in your own kitchen, or at your local grocer for around $3.00
Directions:
1. Unwrap your cling wrap slowly. Be careful to keep it as flat as possible.
2. Using a pencil or just by free handing, trace a ghost shape into the wrap. Just a large and airy "U" shape will work just fine.
3. Cut the shape out of the wrap. Work slowly so your wrap does not get all bunched up.
4. Carefully cut holes into the face for eyes and a mouth. These can be whatever shape you want depending on how detailed you want to get.
Now, all you need to do is press your ghost to a window or mirror. It will stick nicely. Just use your palm to flatten it out. You can leave some plastic draping at the end as though the ghost smacked into the mirror or cut it clean.  When you wish to remove the cling, no worries! It will peel right off and not leave a trace of damage. Or should I say, it will vanish like a ghost? I plan to have the kiddos work on a few other creations for the windows with this cling wrap. I can give them a roll or wrap and let them have at it. They will really enjoy decorating up the windows throughout the house and especially the windows in their bedrooms.
Pull out a roll of Press N Seal wrap and whip up your own Spooky Ghost Clings. This is a fun and frugal craft anyone can try and enjoy some spooky success at.