McDonald's Shamrock Shake celebrates its 50th anniversary in 2020. We'll show you how to make them easily in your kitchen. As a result, you can celebrate long after St. Patrick's Day.
During the few weeks it appears on the menu every March, multiple purchases of McDonald's Shamrock Shake can empty your wallet. But now, you can make your own shamrock shake recipe at home, any time of the year.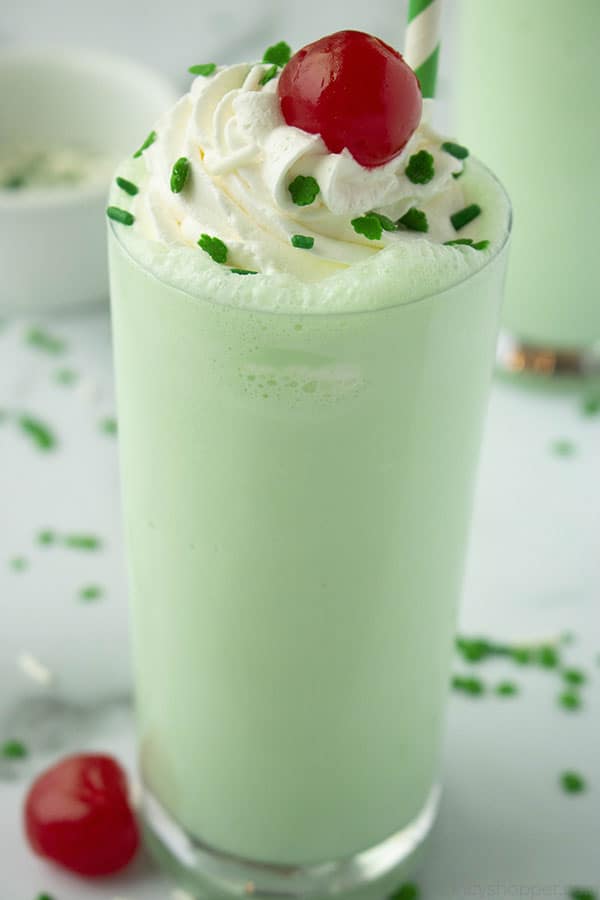 What does McDonald's Shamrock Shake taste like?
McDonald's has changed their recipe for Shamrock shakes several times over the course of its 50 year history. The original recipe called for lemon-lime sherbet. It was green, but with a lime flavor rather than the mint we now recognize as a Shamrock shake.
These days, the thick vanilla shake gets its bright mint flavor from a green syrup. Combined with vanilla ice cream, the shake has an irresistible vanilla-mint flavor.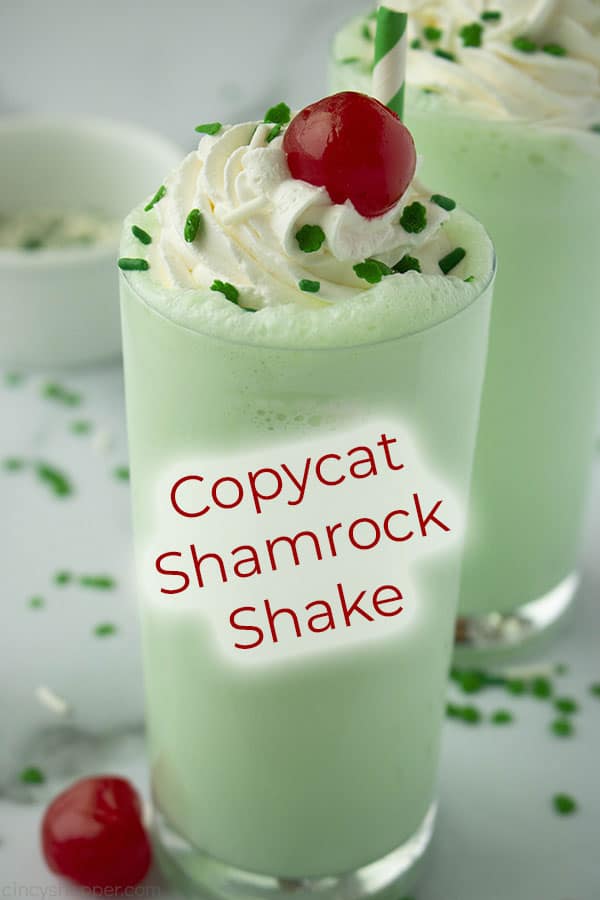 What's in a McDonald's shamrock shake recipe?
McDonald's simplifies their recipe by using just three ingredients: vanilla ice cream, mint syrup and whipped cream on top.
To make our copycat recipe, you will need:
Vanilla ice cream
Half and half
Mint extract– Not all stores carry mint extract on a regular basis, so you might have to ask. It is not the same as peppermint extract, but that will work in a pinch. Just know that using peppermint extract will make your shake taste more like a Christmas candy cane.
Green food coloring– If you are opposed to using food coloring, just leave it out. Your shake won't be green, but it will taste the same. If you are using the gel food coloring, you need about half the amount of the liquid food coloring.
Whipped cream
I like to add a maraschino cherry to the top, so feel free to use them as well!

Ingredient substitutions
My homemade shamrock shake recipe uses dairy products. If you need a dairy-free option, non-dairy ice cream options are available. Coconut milk ice cream and coconut whipped cream will be the best choices. The shake will still be thick and creamy, and will mimic the texture of a dairy version.
Make this a fun party treat with toppings. Kids will love adding sprinkles, chocolate syrup, maraschino cherries, chocolate chips and whipped cream to their shakes.
Plus, once you know how to make a great milkshake, you can replace the mint extract with any flavor you like.
What makes milkshakes thick?
Milkshakes are a quick and easy treat to make. Follow these tips for perfectly thick and creamy milkshakes every time.
Use half and half or whole milk. Now is not the time to be shy about using full fat products.
Add the milk slowly. Add just enough to make it creamy without turning it to a liquid. You want to be able to drink it through a straw.
Use a slow speed on your blender.
Taste before serving. Make sure your milkshake tastes like mint, but is not so strong it's hard to drink. Extracts are very concentrated so add them slowly.
Drink it immediately. The longer it sits, the less thick it will be.
Can you make a milkshake without a blender?
A blender makes the process easier, but you can make a milkshake without extra kitchen equipment. Here are 3 ways to get the job done:
Shake your shake! Place all the ingredients in a quart jar. Seal with a lid, and shake until combined.
Stir the ingredients together. Let the ice cream sit out for 15-20 minutes first. As a result, it will be soft enough to stir.
Use an immersion blender.
McDonald's Shamrock shake variations
Even McDonald's alters their classic recipes. For flavor variations, try adding some of these ingredients to your shamrock shake recipe.
crushed chocolate cookies
Drizzle some chocolate syrup down the insides of the glass before pouring the milkshake. If you add chocolate syrup in the blender, the shake will lose its green color.
Make a grown up shamrock shake by adding Bailey's Irish Cream to the mixture.
Homemade Whipped Cream
If you are feeling ambitious, you can make your own whipped cream too. It's a great skill to have in your back pocket.
You'll use this simple recipe for milkshakes, pies and lots of other desserts. It's made with just heavy whipping cream and sugar.
Use a metal mixing bowl and a whisk or electric mixer. Place the bowl and whisk or beaters in the freezer for about ten minutes first. This way, the cold items will quicken the whipping process.
Add two tablespoons of sugar to the bowl.
Add a cup of heavy cream to the bowl.
Whisk until stiff peaks form.
You can store whipped cream for a few hours. Just whip it again before using it as topping.
More St. Patrick's Day recipes
Fill the days of March with the luck of the Irish by trying all of these St. Patrick's Day inspired recipes. Lots of mint flavor and bright green colors will decorate your table.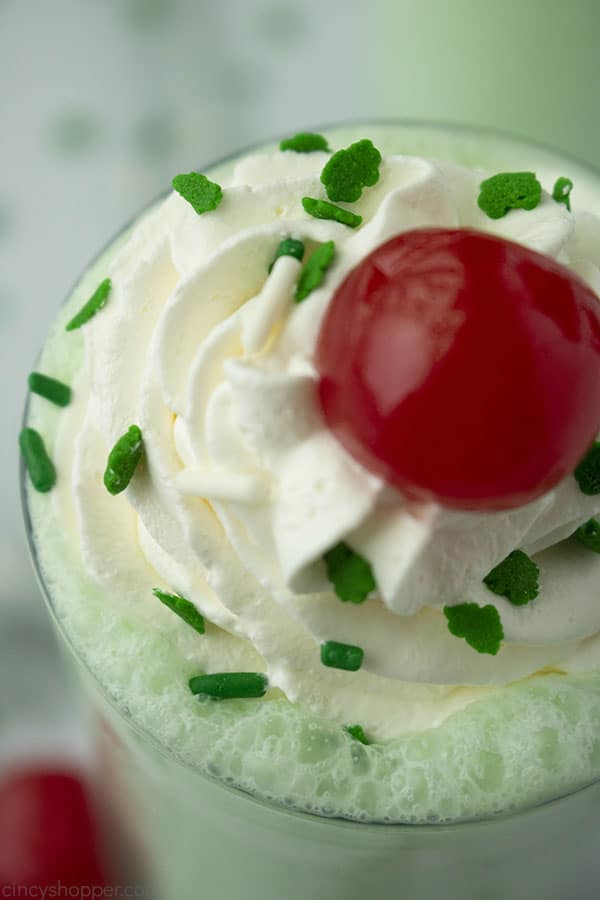 Originally published on February 17th, 2014. Updated with more tips and images on February 10th, 2020.
McDonald's Shamrock Shake (Copycat Recipe)
McDonald's Shamrock Shake celebrates its 50th anniversary in 2020. This copycat recipe will help you make them at home. As a result, you can celebrate long after St. Patrick's Day.
Ingredients
1

pint

Vanilla Ice Cream

1/2

cup

Half and Half

5

drops Mint Extract

4

drops Green Food Coloring

Whipped cream

optional
Instructions
Combine ice cream, half and half, mint extract and food coloring in a blender and puree for 30 seconds to 1 minute.

Optionally top with whipped cream.