Oh my, you will love these Chocolate Dipped Popcorn Balls. A few years back I had spotted some gorgeous chocolate dipped popcorn balls at Williams Sonoma and I fell in love. I was in awe over these classy looking popcorn balls and thought they would be great for a Thanksgiving get together I was having. Problem was…. they were too pricy for me to fork over the cash. Sold in groups of 4 for $30 (yikes) I just couldn't do it. It would have cost me a small fortune to purchase the large quantity I was going to need. This year I plan to have another Thanksgiving get together with family and remembered these adorable popcorn balls. I got to thinking that now that I have been trying to save and make my own creations that this recipe is one I was willing to give a try.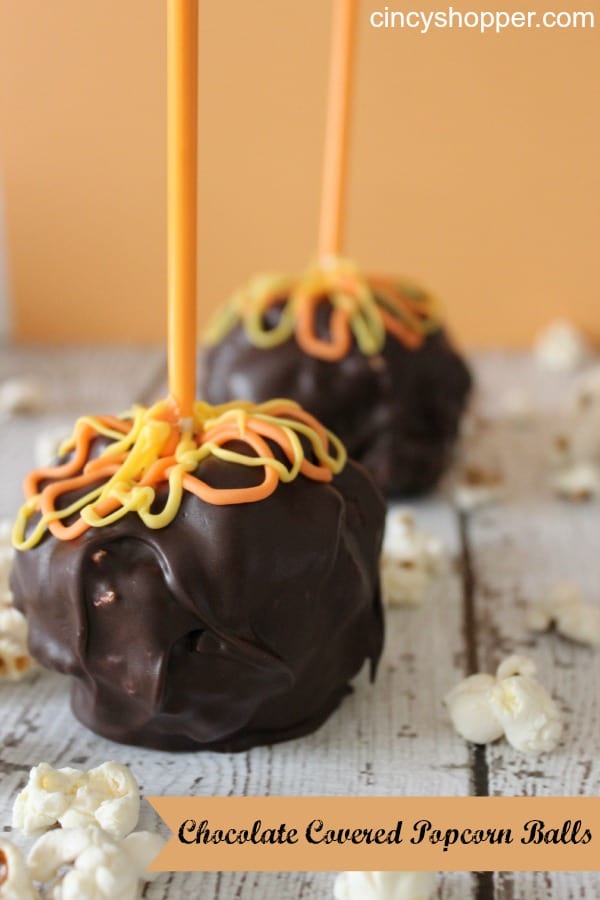 Chocolate Dipped Popcorn Balls
Making these was quite simple. Do not hesitate to give it a try if you are looking for something eye catchy and tasty for a get together or just an everyday treat. The only problem I encountered was having the patience when waiting for the coating to cool enough to form my popcorn balls. I adore the fall colors on these but, let your imagination run. They will look great in white chocolate too for Christmas. Or any color for a themed shower or party. I had a friend drop in as I was finishing these up yesterday and they were in aw of how classy these really turned out.
INGREDIENTS
2 cups Sugar
1¼ cups Water
½ cup Corn Syrup
1 tsp White Vinegar
2 bags Microwaved Popcorn
2 bags Dark Cocoa Candy Melting Chips
1/4 cup Orange Candy Melting Chips
1/4 cup Yellow Candy Melting Chips
12 sticks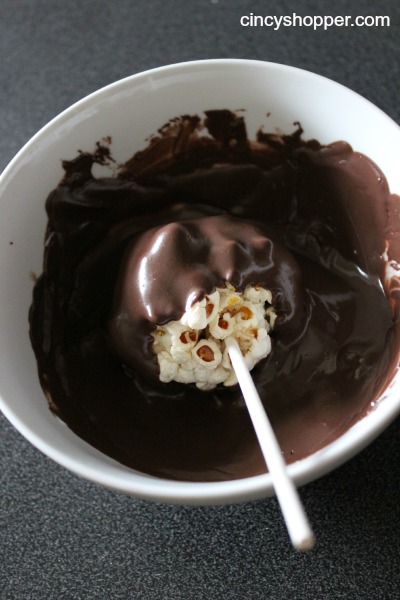 DIRECTIONS
In a large saucepan, combine sugar, water, corn syrup and vinegar.
Cook over high heat until mixture reaches 250 degrees (hard ball stage) on a candy thermometer.
Pour popped corn on a baking sheet.
Pour mixture over popcorn, tossing to coat.
When mixture is cool enough to handle, press popcorn into 2 to 3 inch balls with lightly greased hands.
Insert stick into each ball.
Cool on waxed paper.
Heat Dark Candy Chips in medium Bowl by microwaving for 30 seconds stirring and repeating until melted. Allow to cool for 2-3 minutes.
Dip balls in melted dark candy and roll to coat completely.
Place back on wax paper.
Immediately place in refrigerator for 10 minutes to set candy mix.
Heat Orange Candy Chips in small bowl by microwaving for 30 seconds stirring and repeating until melted.
Transfer Orange chocolate to small plastic bag and clip very tiny piece of corner to use for piping.
Pipe Orange candy in loops originating from stem around ball.
Repeat the process with the Yellow Candy Chips.
Immediately place in refrigerator for 10 minutes to set candy mix.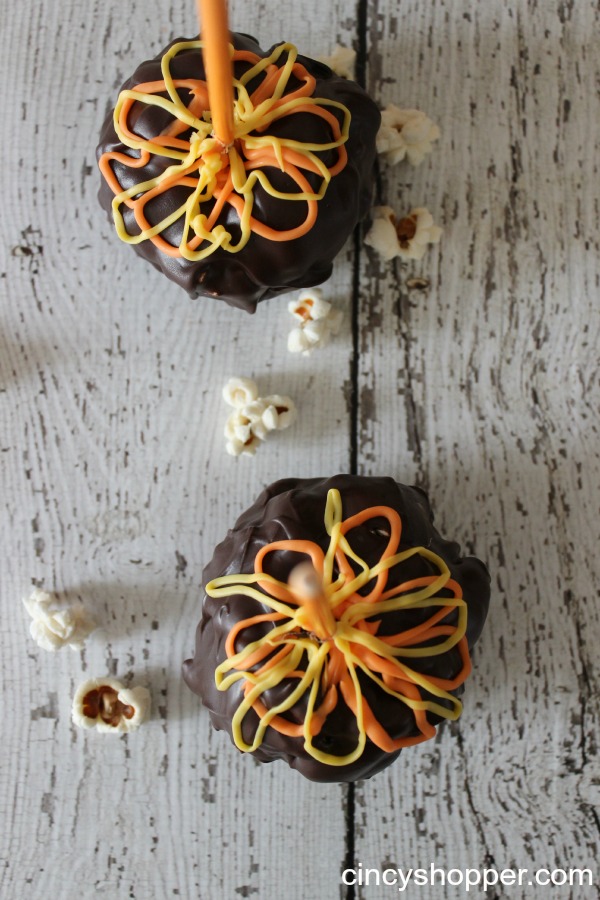 I am so happy that I decided to try making my own chocolate covered popcorn balls. They were so much cheaper to make at home. I dropped into Michael's and used a coupon to score my chocolates on the cheap. The coupon combined with a sale really helped with the savings. Looking for other fall recipes? Be sure to see all that I have whipped up here.